With support from the Public Health Agency of Canada, and in collaboration with Sport Canada, Parachute is leading the harmonization of concussion guidelines and protocols across Canada.
Project goals
The project ensures best-practice tools and resources are placed in the hands of those who need them and has impact in two key ways:
Improved concussion recognition and management in sport, health and education.
Increased awareness and confidence among Canadians of how to prevent, recognize and manage concussion and where to access evidence-based concussion information.
Harmonization means consistency
The concept of harmonization is simple. Concussion protocols should be consistent across the country and aligned with the best available evidence. This alignment ensures that, while concussion protocols can be customized to work in different settings, each will be based on the same core principles.
Importance of harmonization
Early recognition, proper medical assessment and appropriate management make a difference in how a person recovers from a concussion. A harmonized approach better equips coaches, parents, officials, athletes and health professionals with information that is consistent and based on best practices. Harmonization will contribute to safer sport for youth and help them return to the classroom, physical activity and everyday life as quickly and effectively as possible.
Source of evidence
Our most up-to-date evidence comes from the Fifth International Consensus Conference on Concussion in Sport held in Berlin, Germany in October 2016. Parachute worked closely with concussion experts from across Canada to understand the evidence and what it means for concussion prevention, recognition and management. We developed the Canadian Guideline on Concussion in Sport in 2017 to help all Canadians understand the best approach to concussion.
Accomplishments
In Phase 1 , to June 2018, we:
Published the first-ever Canadian Guideline on Concussion in Sport.
Engaged 42 National Sport Organizations (national sport governing bodies) to harmonize their concussion protocols.
Developed free, accredited online training for medical professionals to update their patient care.
Worked with Ontario Physical and Health Education Association (Ophea) to understand the successes and challenges of concussion protocols in schools.
Delivered key messages about concussion to Canadians through Parachute's website, social media platforms, presentations and media coverage.
In Phase 2, to March 2020, we:
Increased our engagement of National Sport Organizations (NSOs) to harmonize their concussion protocols, from 42 to 49 NSOs.
Partnered with the BC Injury Research & Prevention Unit to make four Concussion Awareness Training Tool (CATT) courses available in both official languages.
Partnered with Holland Bloorview Kids Rehabilitation Institute to update SCHOOLFirst, a resource to help educators support return to school after concussion.
Reached more than 40,000 Canadian youth with digital content to increase their knowledge and confidence to recognize and respond to concussion.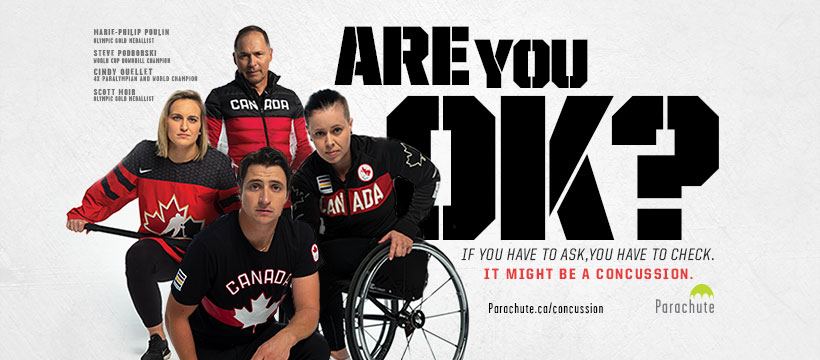 Launched the national #CheckForConcussion campaign with French and English video public service announcements and billboards featuring Olympic ice dancing gold medallist Scott Moir, Olympic hockey gold medallist Marie-Philip Poulin, Paralympian and World Champion wheelchair basketball Cindy Ouellet, and world champion downhill skier Steve Podborski. The campaign drew more than 380 million media impressions from the TV PSA broadcasts, billboard placements across Canada, shopping mall and restaurant digital screens and social media sharing, driving more than 60,000 visitors over two months to Parachute's concussion resource page.
Harmonization project partners with Parachute