Brain Waves is a free, informative and fun half-day neuroscience presentation for students in grades 4 to 6.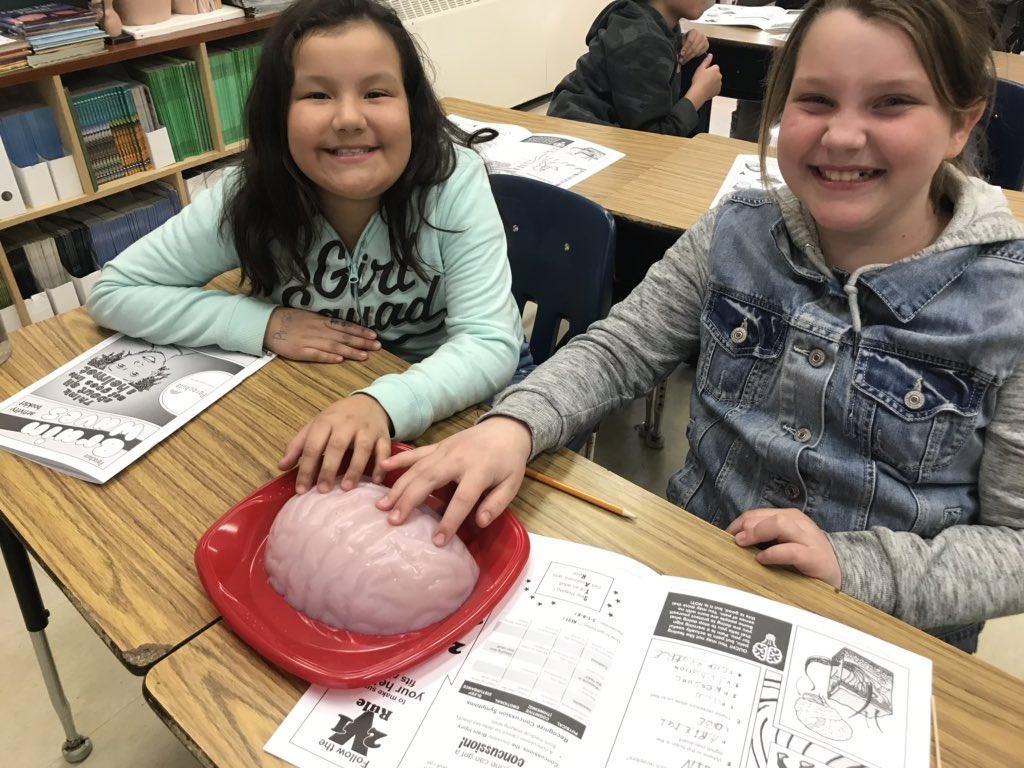 Trained volunteers with an understanding and passion for injury prevention bring the hands-on program, which includes activity booklets, helmet-fitting tips and Jell-O Brains, to classrooms across Canada.
In 2019, more than 30,000 youth learned about different parts of the brain, basic neuroscience vocabulary, and how and why it's important to protect their brain and spinal cord. By bringing this program into the classroom, teachers give their students a new awareness of the brain and spinal cord, and providing them with simple strategies to prevent injury.
Brain Waves can also be presented to groups of youth outside of school classrooms, whether through Scouts, Girl Guides, or community programs.
Training sites for volunteers
We have sites across Canada where co-ordinators provide training for volunteers who wish to deliver the Brain Waves program in classrooms. Each year, up to 1,000 volunteers make it possible for us to have Brain Waves delivered throughout the country. Parachute also supplies these sites with resources to present Brain Waves, such as Jell-O brain molds and printed student activity booklets.
Alberta
Injury Prevention Centre (Edmonton, Evansburg, Leduc County, Fort Saskatchewan, Sherwood Park, Whitecourt)
University of Calgary (Calgary)
Peace River
British Columbia
Saskatchewan
Sask Central Acquired Brain Injury Outreach Team (Saskatoon)
Sask North Acquired Brain Injury Outreach Team (Prince Albert)
Sask South Acquired Brain Injury Outreach Team (Regina)
Ontario
Brain Injury Association of Waterloo-Wellington (Cambridge)
Chatham-Kent Public Health Unit (Chatham)
Lambton Public Health (Sarnia)
Mackenzie Health, Centre for Behavioural Sciences (Barrie)
McMaster University (Hamilton)
Nipissing University (North Bay)
North Western Health Unit (Atikokan, Emo, Fort Frances Ignace, Red Lake, Sioux Lookout, Sioux Narrows)
Porcupine Health Unit (Timmins)
Queen's University (Kingston)
University of Guelph (Guelph)
University of Ottawa (Ottawa)
University of Toronto Downtown Toronto Campus (Toronto)
University of Toronto Scarborough Campus (Toronto)
Western University, Schulich School of Medicine and Dentistry (London)
York University (Toronto)
Start Brain Waves in your community!
Are you interested in starting a Brain Waves site in your community? Contact us at brainwaves@parachute.ca for more information on how you can get involved.
If you are interested in learning how to present Brain Waves, but don't live in one of our training site communities, we provide online training for volunteers through Train for the Brain.
Get presentation materials
We've created both an activity booklet and slide decks to support the Brain Waves program. These are free to download and use.